Looking for cute and easy Christmas card designs to make with your loved ones? Continue scrolling because we'll share some of the best ones for you!
It's that time of the year again where trees and tinsels and fairy lights and candy canes and mistletoes decorate our homes. Christmas is here once more and this season brings us a lot of opportunities to be crafty and creative.
With the technology and gadgets we have today, everyone can easily take a family photo, edit it into a holiday card, and send it off to family and friends. We all like receiving these things because it makes us feel loved and remembered. It's great to see everyone smiling and getting together for the holidays. However, if you want to put a personal touch on your Christmas cards, handmaking them is the best thing to do.
No two cards are alike when you DIY your cards and with 20+ cute and easy Christmas card designs we have, you'll have the time of your life making them alongside your kids and loved ones!
So gather your pens, paper, glue guns, and other craft supplies, and let's go!
(Some links are affiliate links which means we earn a small commission if you purchase at no additional cost to you.)
Cute and Easy Christmas Card Designs
Fingerprint Lights Cards
One of the simplest cards you can make is by painting Christmas lights using your fingers. I'm pretty sure your kids will love making these! Use bright colors to make your cards attractive!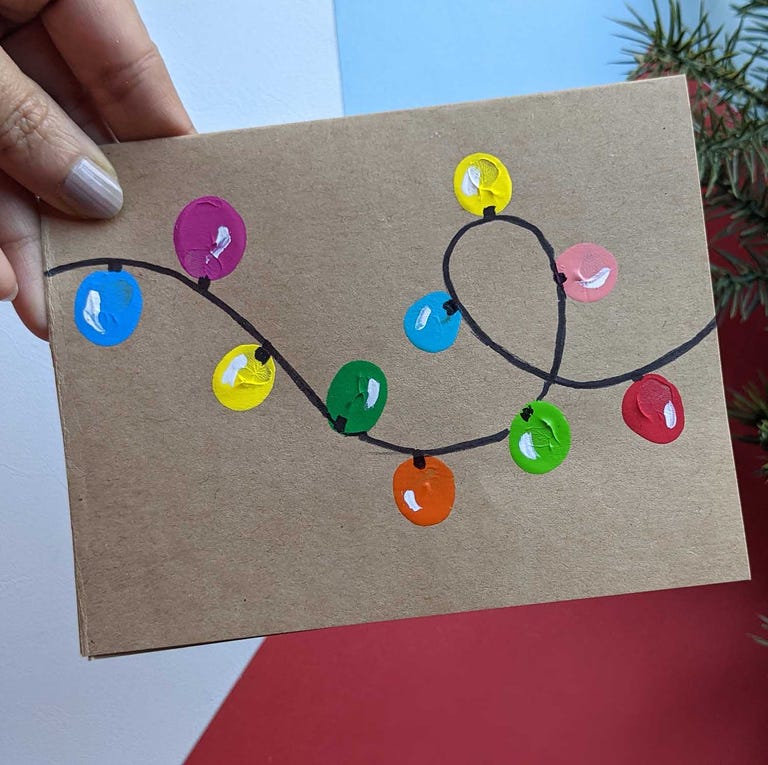 Get a non-toxic finger paint here >>
Santa Hat Card
With red-colored paper and some cotton balls, make a Santa hat design for your Christmas card. Cute, simple, and very easy! Make sure to write some warm greetings inside to make your loved ones smile.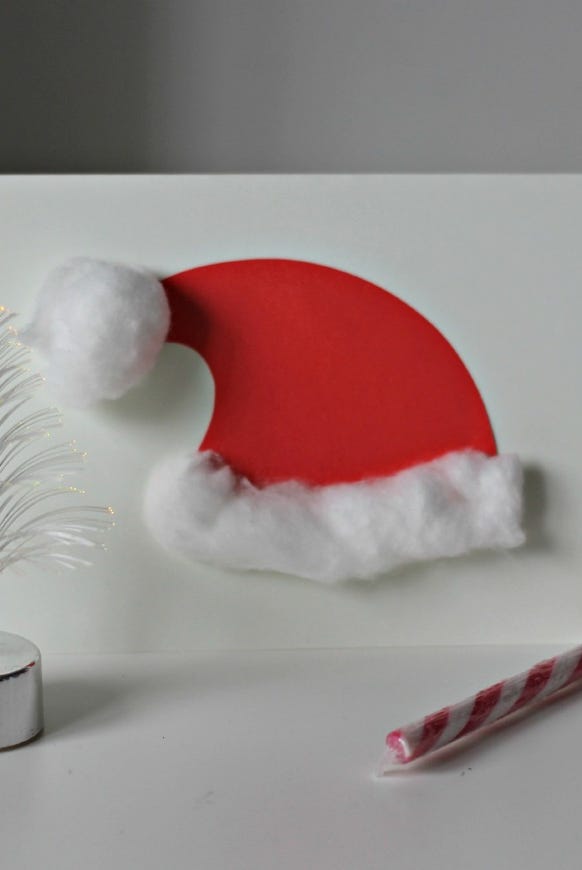 Silhouette Cards
Making this card is easy, all you need are two kinds of paper, a white one and a colored one, scissors, and glue. Cut out your white paper like the photo shown below and you can also add a couple of snowflakes for more details.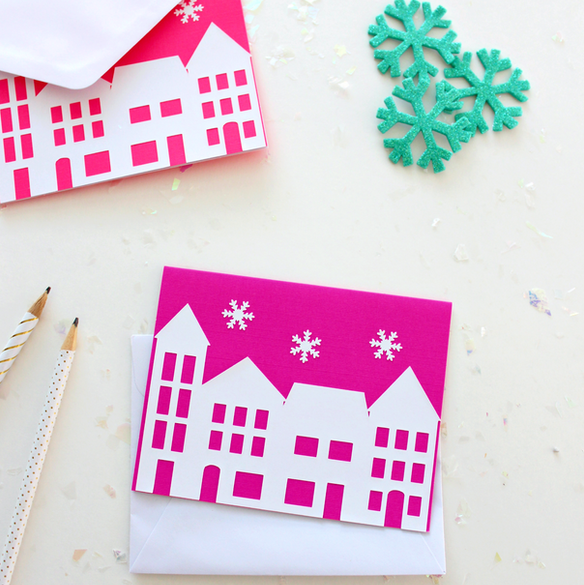 Watercolor Card
This can be a bit tricky but it's a fun thing to do and experiment with. Use a masking fluid or a white wax crayon to draw your design first before splashing a layer of watercolor paint on top of it. Don't forget to let the layers of paint dry first before adding another one. This way, you'll get cooler effects!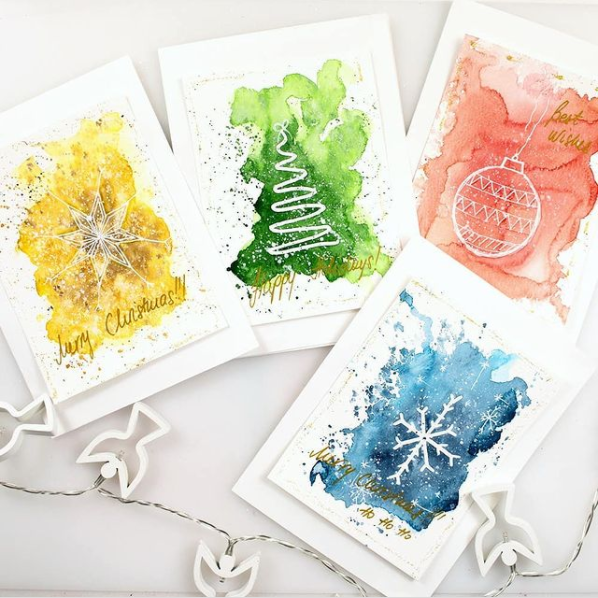 Here's another example of watercolor cards. Pretty, right? 😀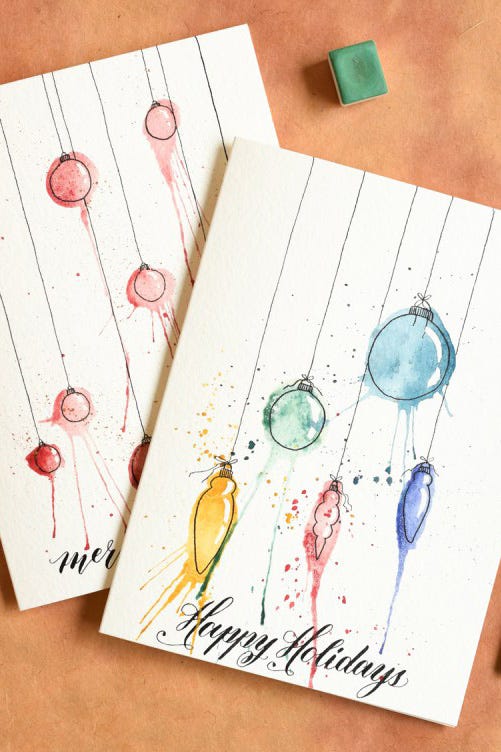 Check out our favorite watercolor paints here: The Best Watercolor Set for Beginners
Deck The Halls Button Card
Do you have colorful buttons lying in your sewing kit? You can repurpose them by using them to make your Christmas cards! Stick them on paper, draw a few lines, and you have a simple and cute Christmas card!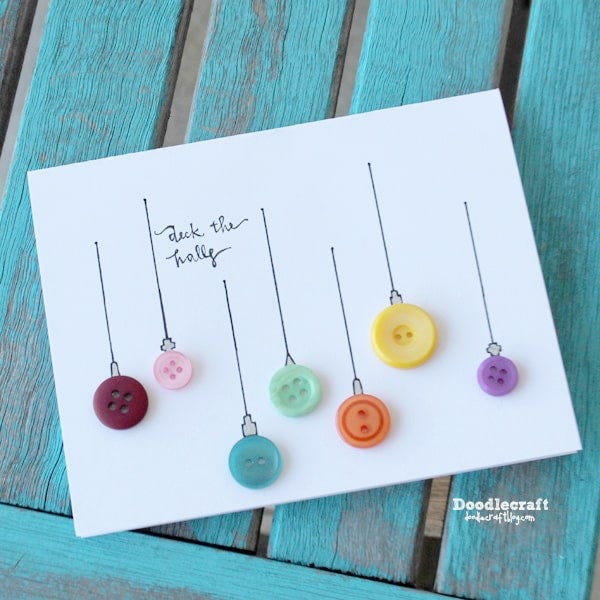 Pop Up Christmas Cards
Make a surprise pop-up snowman or Christmas tree inside your card by following this tutorial! It's simple, it's cute, and it feels very festive!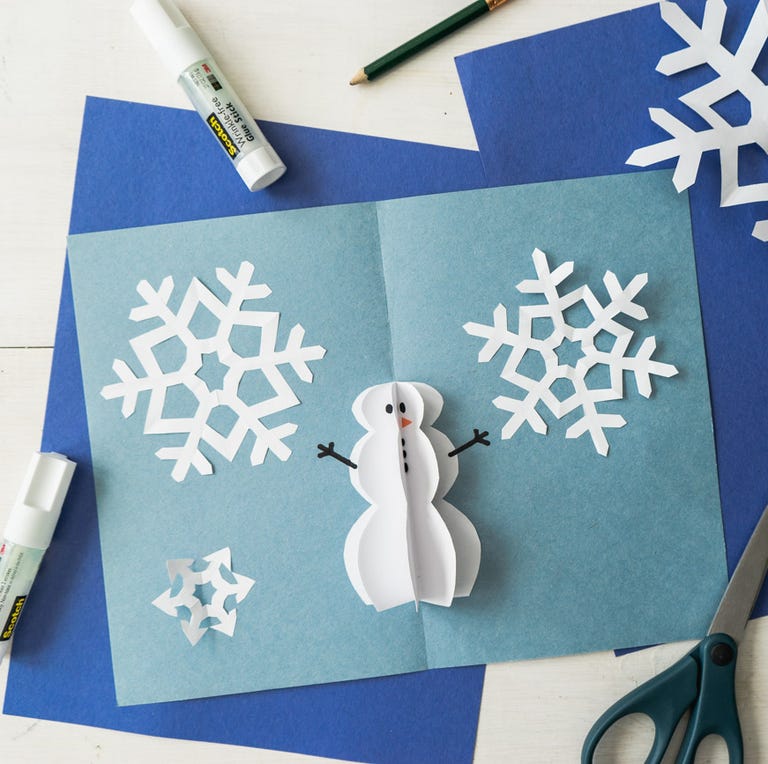 Washi Tape Tree Card
Another cute and easy Christmas card design you can whip up in a matter of minutes is this one made from washi tapes. You'll only need to cut out strips of washi tapes in different lengths, place them on the card to shape like a tree, and you are done! Put a star or an angel at the top and you are good to go.
Felt Christmas Cards
If you like simple yet equally beautiful cards, get yourself some felt paper and make a cute Santa, elf, snowman, or even a reindeer design. You can even opt to make it into an envelope instead of just a card so you can stuff some presents inside!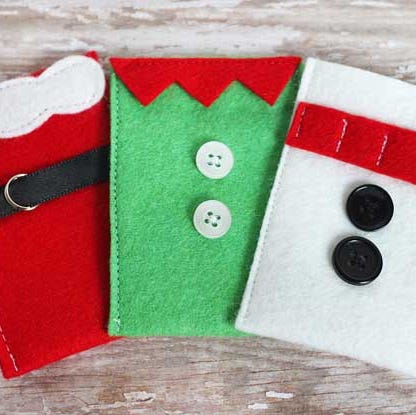 Get Felt Fabric Sheets here >>
Gingham Stars Cards
Simple and elegant. Those are two words I can use to describe this design. Make these simple red and white Christmas card designs with some gingham cloth and white cardstock backing.
Thumb Print Reindeer Card
Here's another fun fingerprinting session you can do with your kids! Put your thumbprints into paper and decorate them to make them look like reindeer faces! So cute and so easy to make!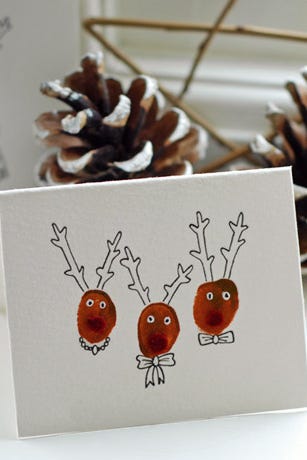 An Easy Folding Card
Crafty and imaginative! Who wouldn't love to receive these cards? I personally would love them!
Watch the tutorial here:
Snowman Button Card
Instead of drawing a snowman on your card, why not use buttons? Choose different sizes of buttons to make up the body of your snowman and decorate the background however you want. It's going to be so cute!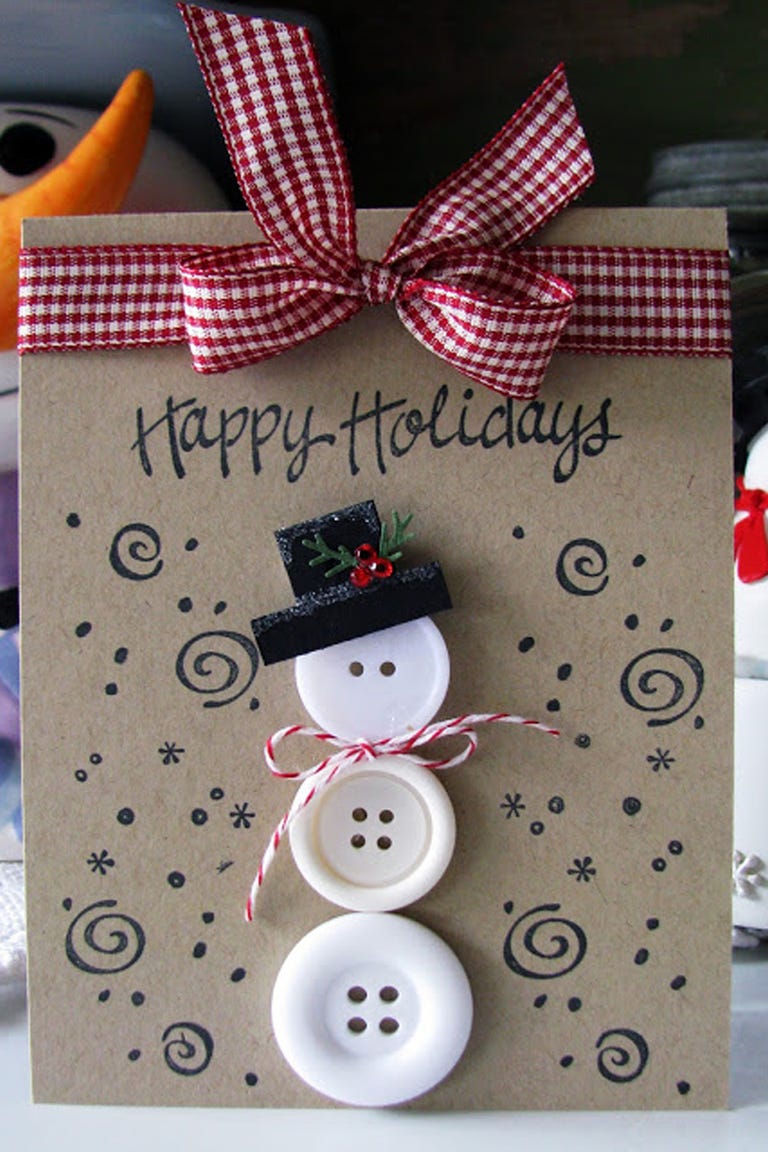 Cotton Swab Painted Cards
Instead of using your paintbrushes to paint a Christmas tree on your card, use a Qtip. Paint on dots and shape them into a tree. Maybe make a few to make it a forest of Christmas trees?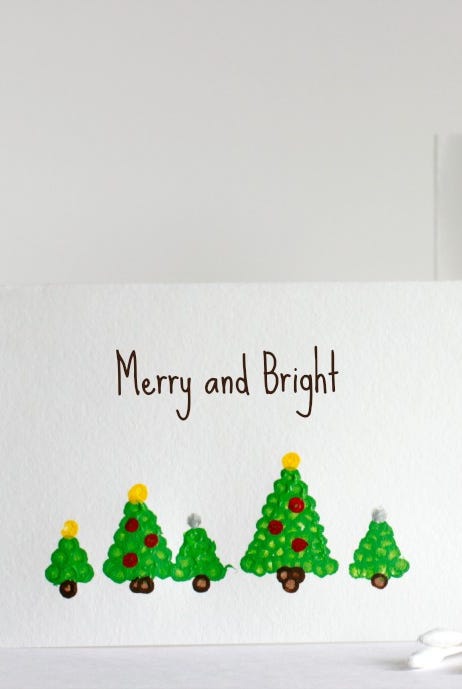 Gemstone Christmas Card
Another simple card design you can do is to use some sparkly gemstones instead of buttons to spice up your cards. Arrange them on your paper and they'll make colorful ornaments. Draw some strings to 'hang' them up and voila!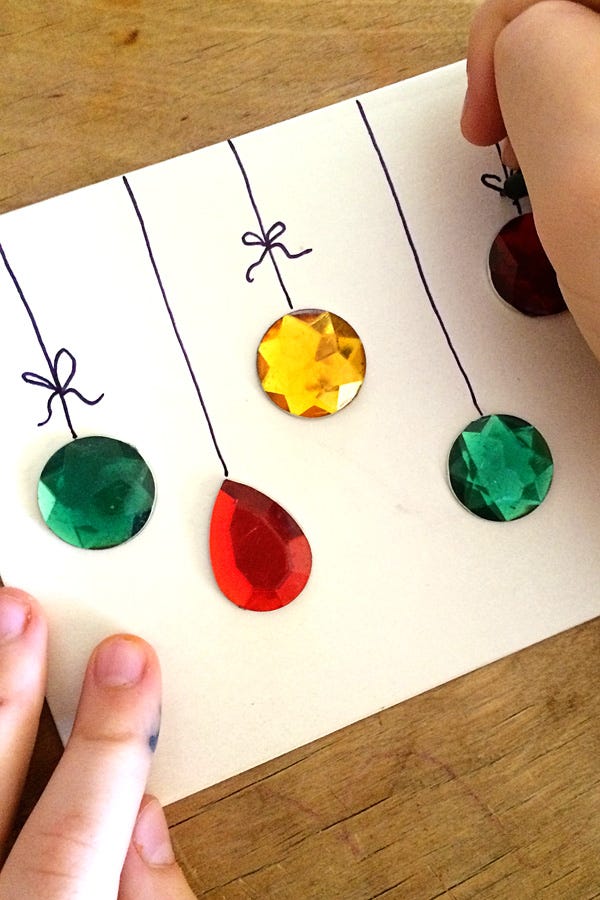 Origami Christmas Cards
Are you a fan of origami? Here's a simple tutorial you can follow to make origami Christmas cards.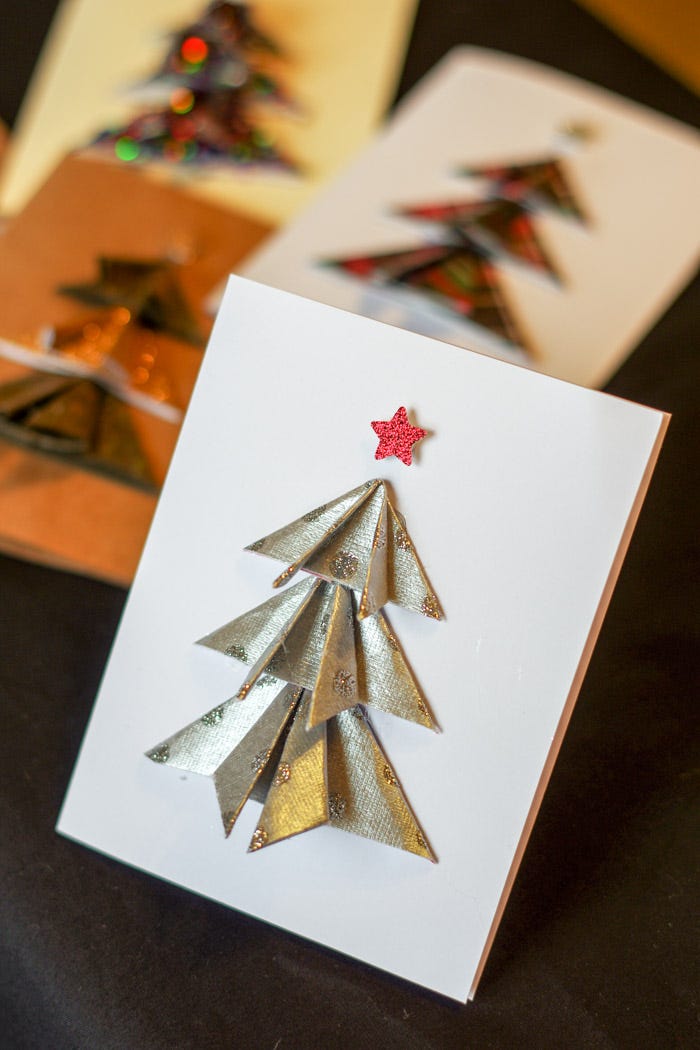 Snowman Paper Garland Card
Aren't these cute?! This is originally an idea for paper garlands but you can also make them into Christmas greeting cards! You can write your messages at the back and the recipient will surely be thrilled because they will not only be receiving a card, but also DIY home decor!
Button and Ribbon Card
You can use a string of ribbons and some buttons to make a delicate Christmas tree for your greeting cards. It's cute and simple and so easy to whip up! To spice it up, you can add beads to decorate your tree!
Hand Drawn Christmas Cards
Are you into lettering and calligraphy? Why not put your skills into use by hand-drawing your Christmas greeting cards! Make use of your pen collection and let your imagination run wild!
Check out our favorite art supplies here: 10 Essential Art Supplies
Bird on a Perch Card
Not really into the Christmas-y designs? This cute little bird can be your next project! Use any paint you have and decorate it with a strip of patterned ribbon. Simple, unique, and elegant.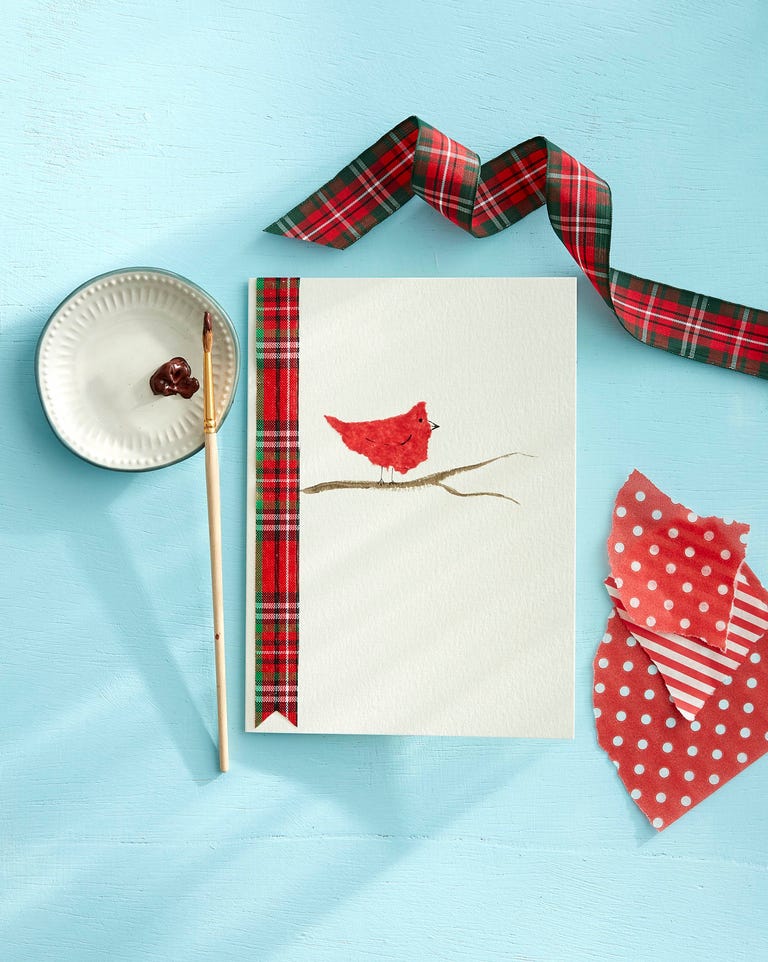 Paper Quilling Christmas Cards
Another cute and easy Christmas card designs you can make is by using quilling paper to make something like the photo shown below.
Here's the tutorial you can follow!
Ribbonetes and Stars Card
Champagne gold is such an elegant color and using this color scheme on your Christmas cards will never go wrong!
3D Ornament Christmas Card
This is such a cute design! Here's the tutorial for it!
Wrap Up
I hope you liked these cute and easy Christmas card designs ideas. Of course, there are more designs you can make, don't let this list limit your imagination.
For more articles like this, visit our blog!
Happy holidays!