Looking for the best oil painting brushes in the market? This is your ultimate guide to finding out our top recommendations. Keep scrolling and continue reading!
There are several types and kinds of paintbrushes and all of them are made for specific uses. Oftentimes, these paintbrushes have long handles giving you much better control over them so that you can paint your oils easily.
Anatomy of a Paintbrush
An average paintbrush looks like this:
Aside from the brush handles, there are also a lot of brush types. We have made this post so that you can easily understand what each one is best used for. Choosing your brushes for oil painting will still depend on your style and preference, but knowing each brush type will give you the knowledge to make good decisions.
(Some links are affiliate links which means we earn a small commission if you purchase at no additional cost to you.)
What to look for in an oil paint brush
When you choose your oil paint brushes, you have to consider some factors. You need to think about how you want your painting to look like. Do you want to make smoother finishes or do you like creating impasto style? Do you need your brushes to have thick hairs capable of moving thick paints or do you like using more fluid paints that are mixed with thinners?
There are a lot of different types of brushes you can choose from depending on your needs. Let's take a look at the different oil paint brush types.
Oil Paint Brush Types and Their Uses
When it comes to oil painting, you will need to use at least 3 types of brushes namely round, flat, and filbert. There are other types but these three are the most common.
Each type of brush has a range of sizes and it varies from manufacturer to manufacturer. Just remember that the higher the number, the larger the brush will be.
Round Brushes
This type of brush is the most common and its tip tapers to a point. This brush is good for painting out finer details and you'll probably need a few of these in different sizes.
Flat Brushes
Flat brushes have rectangular-shaped bristles and can hold a lot of paint. They are often used to paint backgrounds and create large washes. These brushes are very useful in the initial stages of your painting.
Filbert Brushes
The filbert brush is very versatile and it is similar to bright brushes, though filberts have more rounded edges which makes them great for blending colors. Filbert brushes are mainly used for blending and making gradients.
Bright Brushes
Bright brushes have a shape that's similar to flat brushes, but their bristles are shorter. This type of brush is mostly used to create texture and is good for short, controlled strokes. If you are into painting ripples, waves, or any water effects, this brush is good to use.
Rigger Brushes
Rigger brushes are used for highly intricate and detailed work. Its long bristles create long thin lines. So if you are aiming for clean and crisp details, this brush won't fail you.
Like the round tip brush, the rigger brush also tapers into a point and is mostly made with sable hairs. So ideally, you'll have to make your paints more fluid and runny.
Mop Brushes
Mop brushes are ideal for painting skies and backgrounds. And just like flat brushes, mop brushes can also be used to create large washes on your canvas. These mop brushes are round and large which makes them ideal for blending paints.
Fan Brushes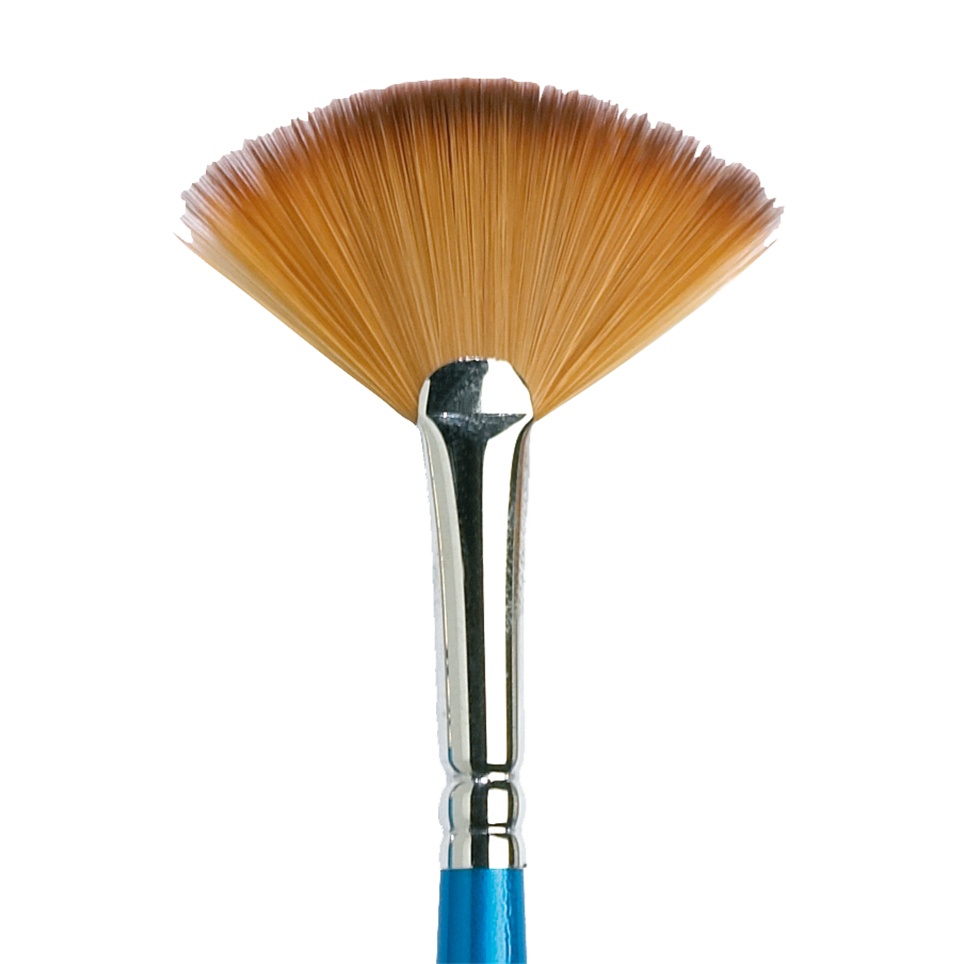 A fan brush can be used in multiple ways. It can be used for blending colors, for creating multiple strokes with one swipe (especially when painting grass), and more. For beginners, this brush can be optional but if you are looking for nice effects for your painting, this brush can give you that.
The Best Oil Painting Brushes
Da Vinci is a well-known and well-respected brand in the fine arts world. Handmade in Germany, their oil paintbrushes are of very high quality that every professional artist love using. They are made from sustainable wood so they are environment-friendly and have been serving generations of artists as they've been around for over 110 years.
This brand offers different brush types and has a typical size range of 0 to 24. Now, because of the premium quality of these brushes, they naturally come in a heavy price tag so there's that to consider.
Pros:
the highest quality in the market
made of Kolinsky Red Sable
has a wide range of brush types and sizes
Cons:
---
This is an artist-grade brush made up of synthetic bristle and has been designed to mimic natural fibers. The Princeton brushes can carry more load which improves its efficiency in flow and painting.
It's available in the following brush types:
Fan
Flat
Filbert
Round
Short Filbert
Egbert
Bright
Angle Bright
These brushes are perfect for students who are looking for high-quality oil paint brushes without hurting their wallets.
Pros:
Relatively affordable
wide variety of brush options
great for students
works well with other types of paints
split end synthetic fibers
Cons:
Not as great compared to premium-quality brushes
---
This brand is popular because they have a great set of watercolors. Aside from that though, Winsor & Newton also offers other products including paintbrushes and theirs are included in our list of best oil painting brushes.
With this brush pack, you'll have all the essentials you need to start oil painting right away. The brushes are made from natural animal bristle brush that's perfect for oil paints.
Pros:
a great starter pack
A popular brand that makes quality products
medium-sized brushes that's suitable for most work
Cons:
no available large brushes
---
With an ISO 9001/100 certification and a lifetime guarantee, Escoda delivers the best quality and standards when it comes to oil paintbrushes. They have 9 different brush sizes and are made from Kolinsky Sable. The brush's ferrule is crafted masterfully, crimped three times to make sure that no individual bristles will fall out when you paint.
Pros:
has 9 sizes
expertly crafted
made with kolinsky sable
artist-grade brushes
Cons:
---
Another brand that's made in our list of best oil painting brushes is this one from D'Artisan Shoppe. This set has premium quality synthetic and natural hog bristles. The synthetic hog bristles mimic the real thing and it's perfect for blending colors and blocking large areas.
The brushes are crafted well with their ferrules rust-resistant and durable, and the bristles are not overly soft nor stiff. These brushes create precise and accurate brushstrokes without having the worry of bristle fallouts. The set contains a wide variety of brush shapes and sizes, and the amazing thing about these brushes is that they're not only for oil paints, they can also be used for acrylic, gouache, and watercolor.
Pros:
has a variety of brush sizes and shapes
has both natural and synthetic brushes
the bristles don't she or fallout quickly
gives accurate brushstrokes
easy to clean up
Cons:
the long handles can be a bit uncomfortable to grip
the largest brush tends to have bristle fallouts after the third use
---
This is a 15-piece set that contains every painter's dream brush. It's a premium set that includes different brush types and sizes in two different types of bristles – the soft Taklon and the stiff, thick hog bristle. These bristles allow you to have versatile brushstrokes. This set, however, does not have a sponge or a palette knife, though it does include a wide 5/4″ brush that's great for washes and applying gesso.
Pros:
affordable price tag
includes a compact case with magnetic closure for portability
has 15 different brushes
has great quality
suitable for other types of paints
Cons:
the largest brush tend to have some bristle fallout
---
This set comes with 15 well-made brushes of different types and sizes. Their bristles are soft and can hold thick and wet paint equally. The brush is also well-crafted and its ferrule holds tight to the handle and the bristles. The set comes with round brushes, flat brushes, filberts, angular, and fan brushes. It also has a palette knife, a sponge, and a sturdy carrying case to store them all.
Pros:
affordable
has a palette knife included in the set
comes with a portable case
great to use when working small details
Cons:
the handles are shorter compared to other professional-grade oil paintbrushes
---
These oil paintbrushes by Grumbacher are perfect for beginners. Sold both individually and as a set, Grumbacher has 3 different flat brush sizes which are great for mid-sized artworks. These are made of synthetic fiber which can also be used for other types of paint like gouache and acrylics. Grumbacher oil paintbrushes also have an oversized center with a long handle that is comfortable to grip even for long hours of use.
Pros:
synthetic brushes that are very versatile
has oversized handles for comfortable grip
perfect for beginners and students
Cons:
the brush types it offers are limited
slightly expensive compared to other sets
---
Princeton has some amazing lines of paintbrushes but this one, in particular, earned a place in our list of best oil painting brushes because of its excellent quality and durability. The brushes are made of firm synthetic bristles and they hold the paints well. The stiffness of the bristles makes them a bit more like hog bristles so they are less slick than the typical synthetic bristles.
Pros:
the brushes are firm and durable
the bristles aren't too stiff nor too flimsy which is great for creating clean strokes
easy to clean up
Cons:
a little bit expensive
the round brushes don't come in large sizes
---
This paint brush set is made up of nylon, and while others don't particularly like this material because it's too stiff and leaves brush marks, this isn't the case with this one.
Benicci did not compromise on quality when it came to this brush set because these nylon brushes are better than expected. They are not too stiff yet durable enough and are flexible yet not too soft. The brushes can efficiently pick up paint and has a decent flow rate without deforming the brushes after application.
The bristles give off a nice bounce and it provides a smooth application. The variety of shapes and sizes in this set is lovely. It's definitely a versatile set that every artist will appreciate especially because it's affordable.
Pros:
nylon brushes that are flexible and give a smooth application
has a variety of brush shapes and sizes
durable ferrules
efficiently picks up paints and has a great flow rate
affordable and great for beginners
Cons:
have some bristle fallouts sometimes
---
Caring And Maintaining Your Oil Paint Brushes
When you take proper care of the oil paint brushes you got from this list, they should last you for a lifetime. Here are a few tips on cleaning up your brushes to maintain them and get the most out of them.
Oils resist water naturally so it's recommended to use a solvent such as turpentine or odorless mineral spirits to effectively clean your brushes.
Make sure to clean the ferrules of your brushes just as well.
After using the solvent to clean up the oil paints from your brushes, follow up by cleaning them with dishwashing detergent and warm water to fully clean them.
A tip for artists who use natural fiber brushes like hog or kolinsky stable: add a drop of linseed oil to your brushes after washing and drying them and form them into a tip.
Store your brushes tip side up to preserve their shapes. 
Wrap Up
Finding the perfect brushes may take you some time and some trial and error. Hopefully, our list of best oil painting brushes has helped you narrow down your choices when shopping for new oil paintbrushes. No matter which brand you choose, remember to consider the factors that you prefer to have.
For more articles like this, make sure to visit our blog and like our Facebook page!